Writer's Dreamkit™ - Download (Windows)
Regular price

Sale price

$59.95
System Requirements

WINDOWS ONLY:
- Pentium class or better
- Windows XP, Vista, 7, 8 10, and 11 (Vista and higher require additional installation instructions)
- 30 Megabytes of Hard Disk Space
- Internet connection during installation and activation
Returns information

Writer's DreamKit has a 90-day money back guarantee when purchased from Screenplay.com or Write Brothers®.

CLICK HERE for more information on Returns.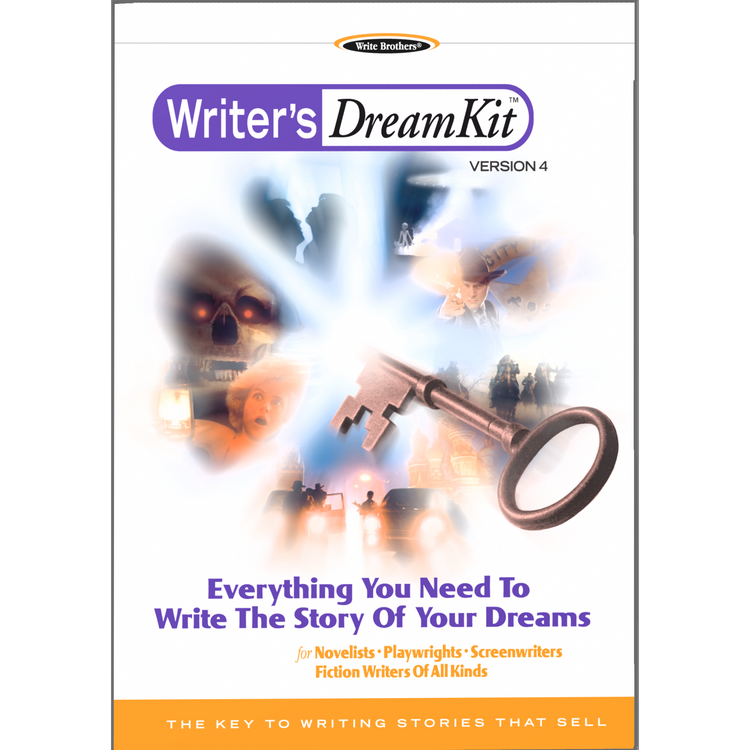 Product Details
As the beginner's version of Dramatica® Pro, the Writer's DreamKit™ for Windows is a proven software program designed by writers for writers -- a complete step-by-step fiction writing system designed for the aspiring writer. The Writer's DreamKit™ StoryGuide™ handholds you from initial idea all the way through to completed narrative treatment, inspiring you and supporting you along the way.
NOTE: If you're on a Mac, Dramatica® Story Expert™ is your best bet. Click here to go to the Dramatica Story Expert page.
1. Full Product Description

The Writer's DreamKit™ StoryGuide™ handholds you from initial idea all the way through to completed narrative treatment, inspiring you and supporting you along the way.

If you thrive on the angst-ridden masochism of neverending writer's block, then read no further. However, if you seek sound solutions to story development dilemmas, then your search is over––the Writer's DreamKit™ is the tool for you. As your creative writing partner, it takes you to a special place—a story development environment where together you'll solve the plot and character problems that prevent many stories from becoming great enough to sell.

You'll cast and build your characters, plot out your story, layer in themes with universal meaning, and put it all together into scenes to form a solid step outline. And as your mentor, the Writer's DreamKit™ will do something no other writing program can do—it predicts parts of your story based on creative decisions you make! You'll be inspired to incorporate those ideas into your developing story and make it even tighter—with no plot holes or character inconsistencies!
2. Reviews

What I came to discover that night is that Writer's DreamKit did not write the story for me, what it did do was make me work at telling a story I had no idea how to tell. When I arrived at the Congratulations! You've answered enough questions to get down to one storyform! I was elated. I had finally arrived at a story close to what I wanted to tell and with some more refinement I would have a script. In one night I had the story I spent months avoiding telling and it had more depth and organization than I usually end up with on a words on paper outline.

New York Screenwriter
Screenshots
1. DreamKit™ StoryGuide™

2. The Story Engine™

3. Build Characters

4. Character List

5. Scene Creation

6. Theory Guide Window
This is where your new story starts! The Writer's DreamKit™ desktop has eight tiles which make up a "home base" from which to begin writing. These eight tiles give you access to all of the tools in the program. A step-by-step interactive StoryGuide™ leads you through the creation of your story. Everything you need to go from concept to completed story will be covered as you build the dramatic elements for your novel, screenplay, short story, etc.
The Story Engine™ contains every dramatic element necessary to create a complete story. Make a change here and instantly see the impact on your story's characters, plot, and theme. You can also watch the impact of each selection you make as it causes other answers to be filled in.
Assign motivations for all the characters in your story. You can also see a graphical representation of how your characters relate to one another. There are dozens of icons from which to choose.
The Character List window contains icons for all the characters in your story. From this window you can access a variety of tools for creating perfectly suited characters for your story.
Button label
Here's where you weave together all the parts of the story you've developed. Determine how elements of character, plot, and theme will be revealed to your audience over time. Illustrate how they'll show up in the story by assigning them to the specific Scenes, Acts, or Chapters that combine to make up your story's outline, treatment, or plot synopsis.
The Theory Guide provides a quick way of learning the Dramatica® Theory of Story. The Guide enhances your knowledge of the theory with tips for implementing it as you use the Dramatica® Writer's DreamKit™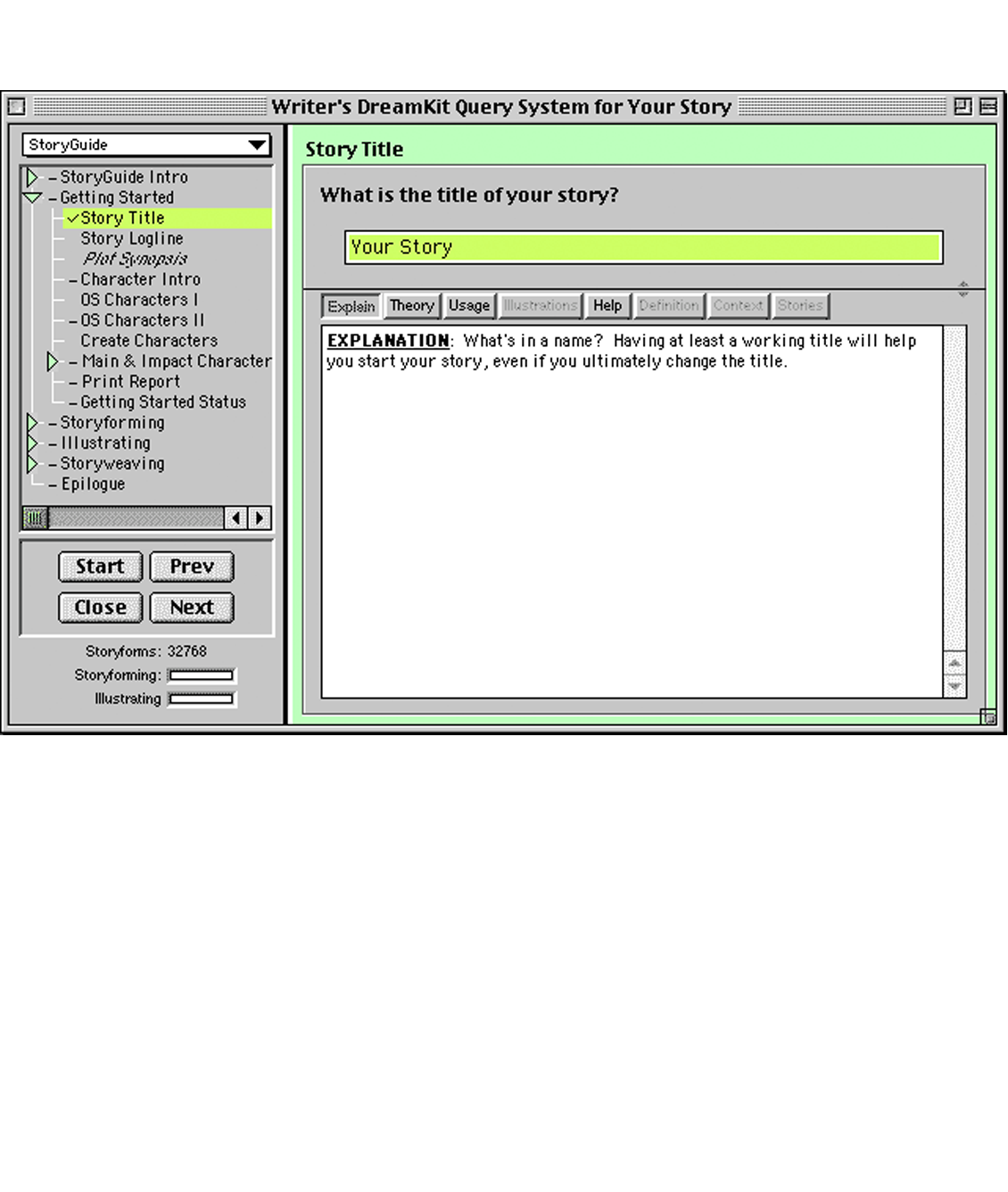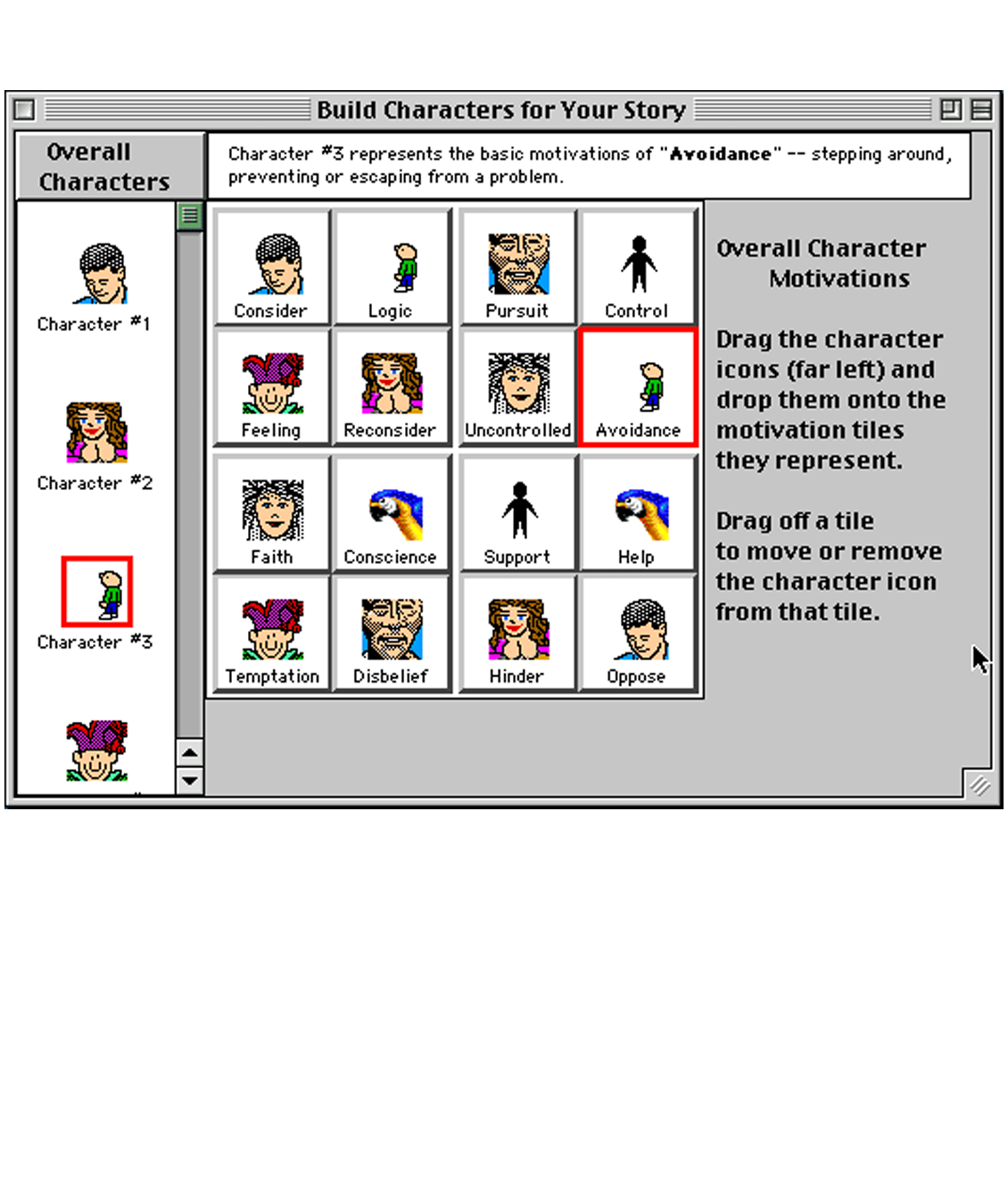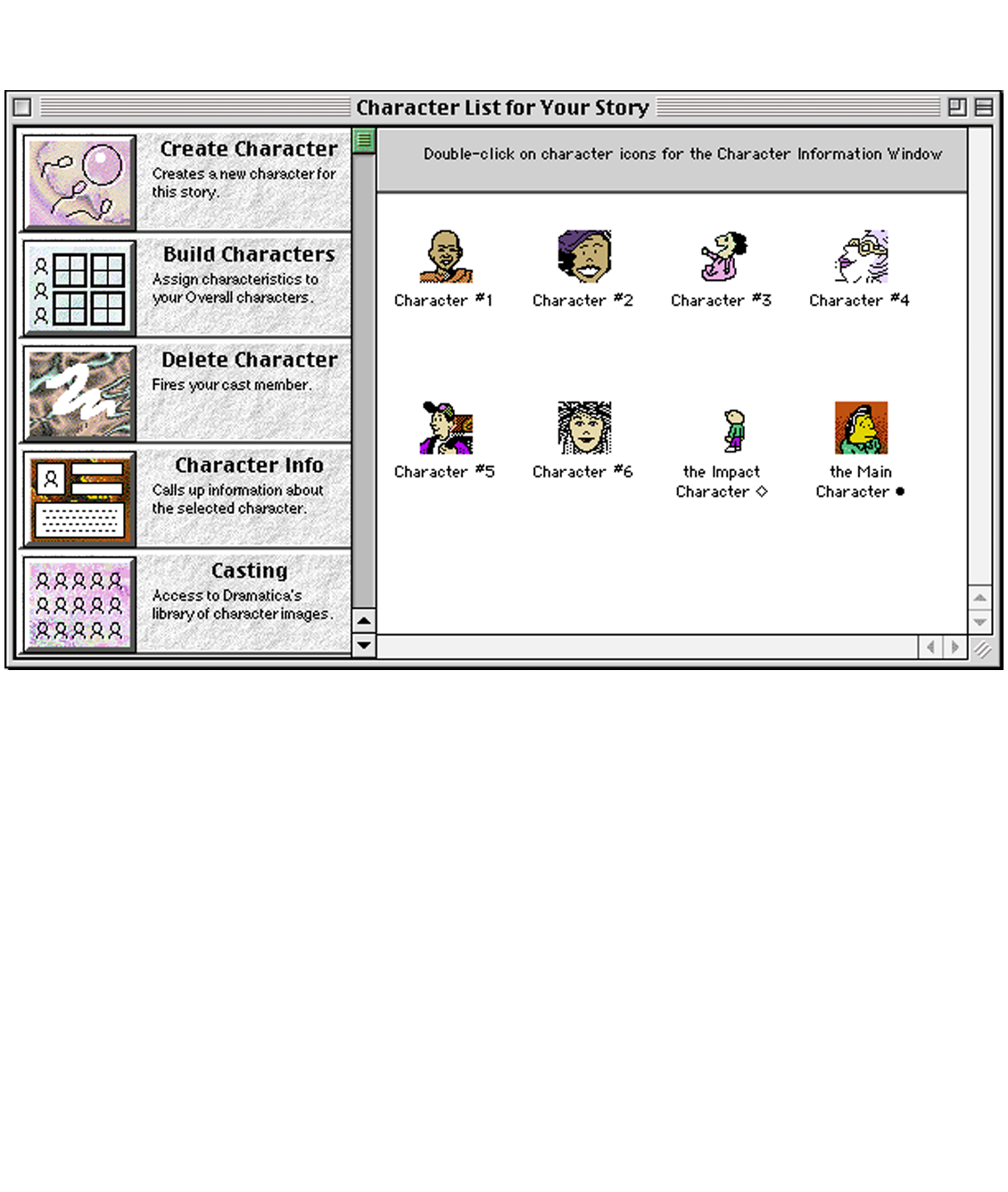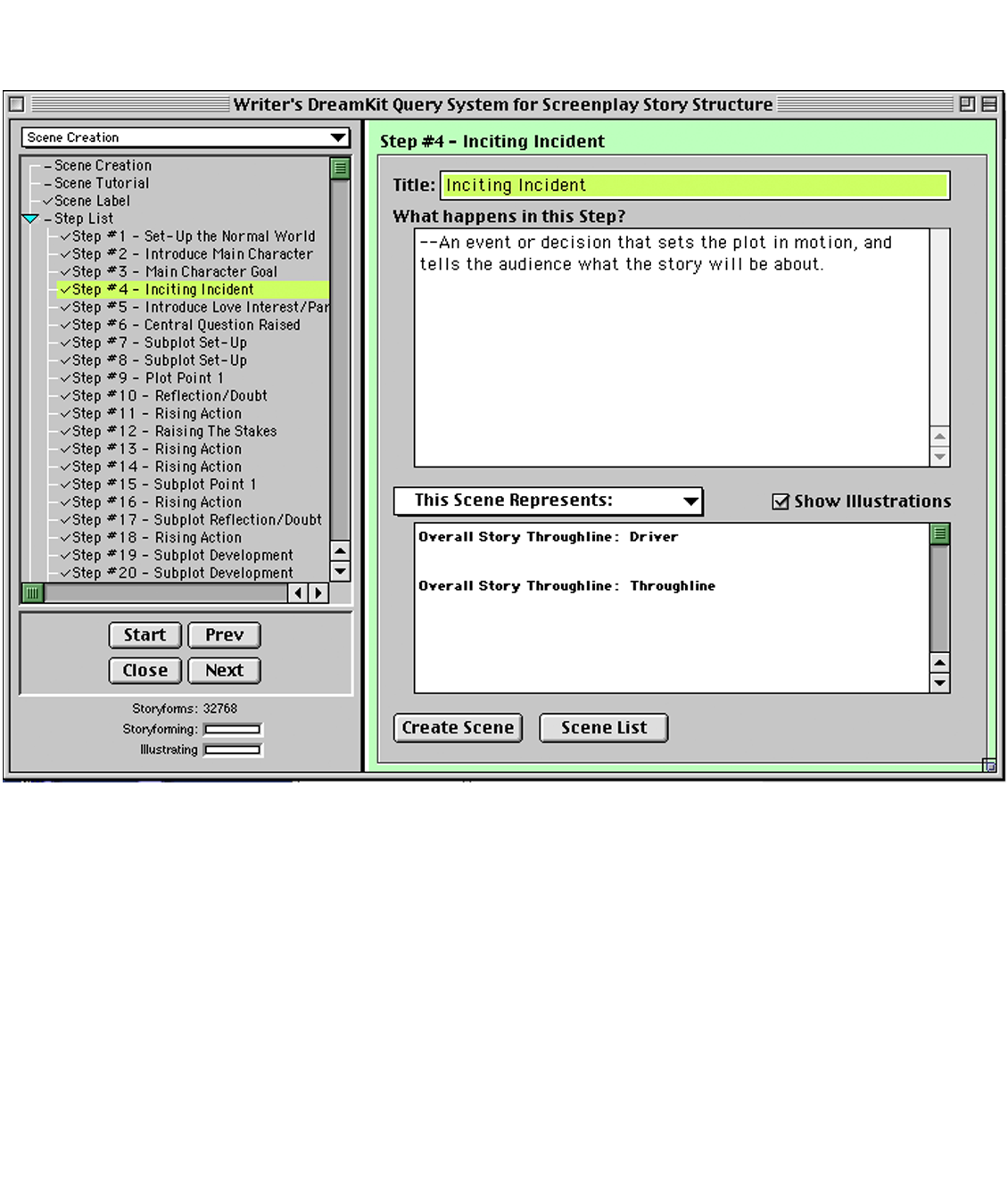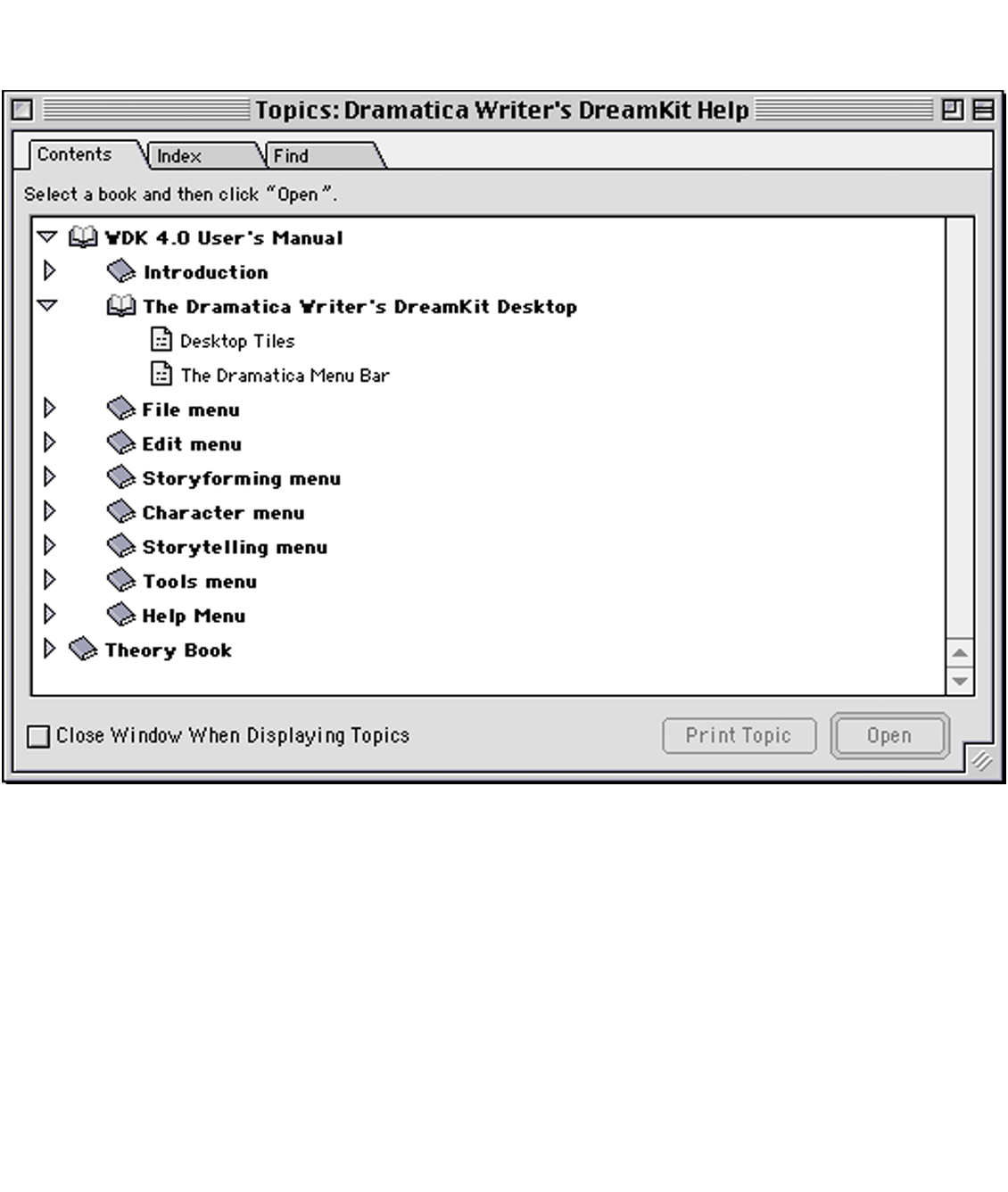 Testimonials



What I came to discover...is that Writer's DreamKit did not write the story for me, what it did do was make me work at telling a story I had no idea how to tell.

New York Screenwriter
When I arrived at the, "Congratulations! You've answered enough questions to get down to one storyform!" message, I was elated. I had finally arrived at a story close to what I wanted to tell, and with some more refinement I would have a script.

New York Screenwriter
In one night I had the story I spent months avoiding telling and it had more depth and organization than I usually end up with on Word or on a paper outline.

New York Screenwriter